Jane Mackenzie, HR Business Partner
Jane is responsible for making sure that our homes are fantastic places to work for our team of dedicated care professionals.
A commercially focused HR Business Partner, Jane leads the company's HR strategy and systems including recruitment and selection, employee relations, and learning and development
Jane has both operational and human resources experience, from the healthcare, retail and logistics sectors.
As a multi-site HR manager, Jane has a proven track record as a strong leader of people who builds high performing teams and leads them through significant change.
Her skills include performance management, talent management, change management, employee relations expert, learning and development management and trainer, project management, recruitment and selection, payroll and reward.
Jane's qualifications include BA(Hons) European Business Administration, Diploma from Ecole Superieure de Commerce, Reims, France, Chartered Institute of Personnel and Development Associate in Human Resource Management, and a BCS Foundation Certificate in Data Protection.


QUESTIONS ABOUT CARE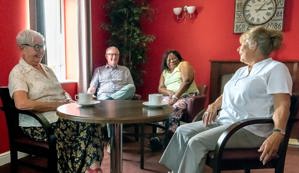 Can resident's rooms be decorated?
Yes. This is your home and we want it to feel like just that. If you want to make significant alterations then we may ask for a retained fee to return the room back to its original state once vacated.